What a great day! Rowan and Elijah made me some amazing stories. They also woke me up with coffee, they folded their laundry. We watched "Pay it Forward" together, and Kris introduced the rest of us to a show she liked called "Firefly."
We had egg mcmuffin-style sandwiches for brunch. We are having sushi for dinner. I haven't had to leave the house! I'm sitting around in shorts and no shirt!
---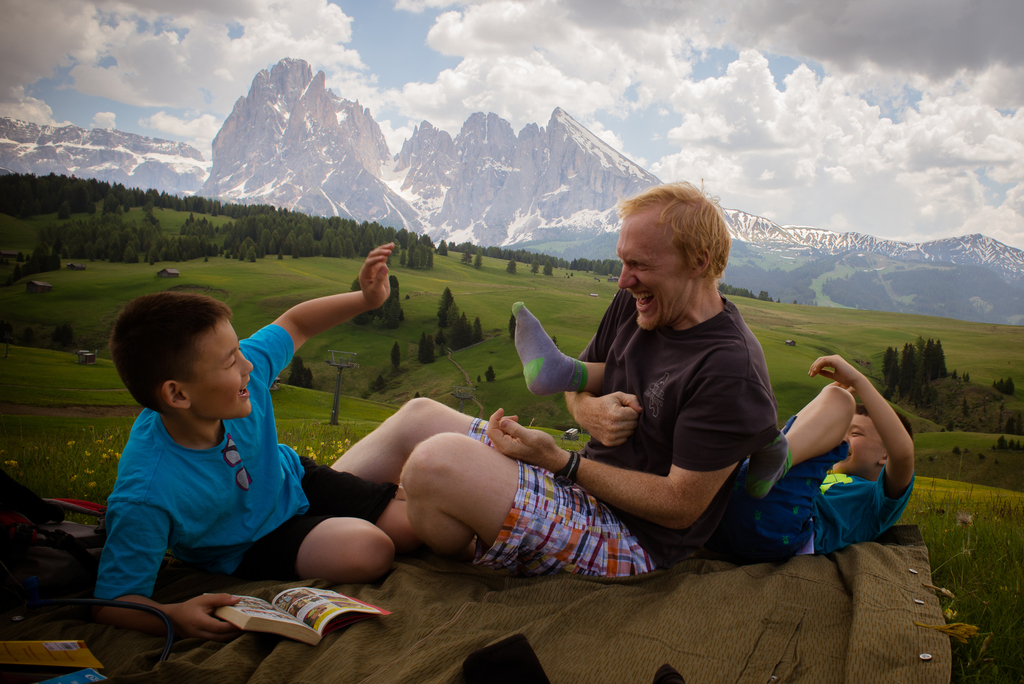 A few days before, in the South Tyrol.
Here is Rowan's story, with a transcription in German and English.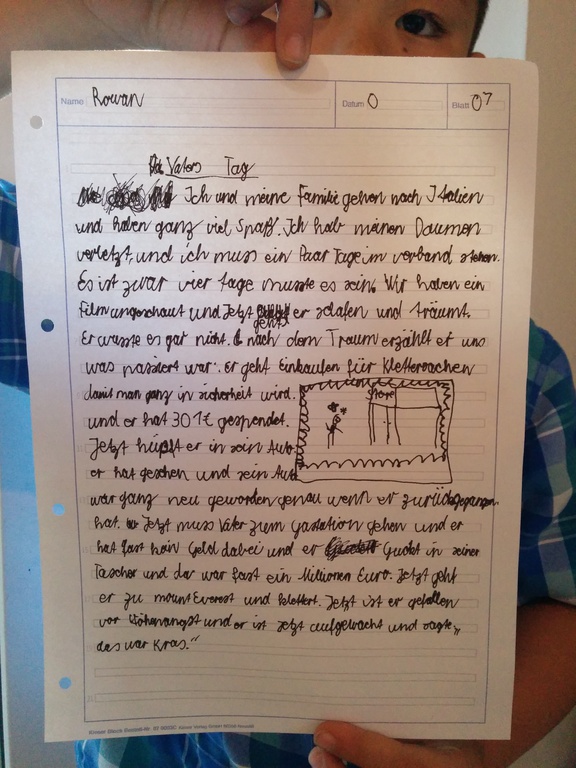 Ich und meine Familie gehen nach Italien und haben ganz viel Spass. Ich habe meinen Daumen verletzt, und ich muss ein Paar Tage im verband stehen. Es ist zwar vier Tage musste es sein. Wir haben ein film angeschaut und jetzt geht er schlafen und träumt. Er wusste es gar nicht. Nach dem Traum erzählt er uns was passiert war:

Er geht einkaufen für Klettersachen, damit man ganz in sicherheit wird. Und er hat 301 euro gespendet. Jetzt hüpft er in sein Auto. Er hat gesehen, dass sein Auto war ganz Neu geworden genau wenn er zurückgegangen hat. Jetzt muss Vater zum Gasstation gehen und er hat fast kein Geld dabei und er guckt in seiner Tasche und dar war fast ein Millionen Euro! Jetzt geht er zu Mount Everest und klettert. Jetzt ist er gefallen vor Höhenangst und er ist jetzt aufgewacht und sagte:

"Das war Kras."
Here is an english version:
My family and I went to Italy and had a lot of fun. I injured my thumb and I had to be in a cast several days. It was actually four days. We watched a film and Dad fell asleep and dreamt. He didn't realize it! After the dream he explained to us what happened:

He went shopping for climbing gear, so he could operate in security [wow]. And he spent 301 euros. Now he hopped in his car. He noticed that the car suddenly appeared to be brand new! He had to go to the gas station and had no money, but then he looked in his wallet and there was almost a million Euros! Now he went to Mount Everest and climbed. Now he fell from a fear of heights and then he woke up and said:

"That was cool."</i>
Here is Elijahs story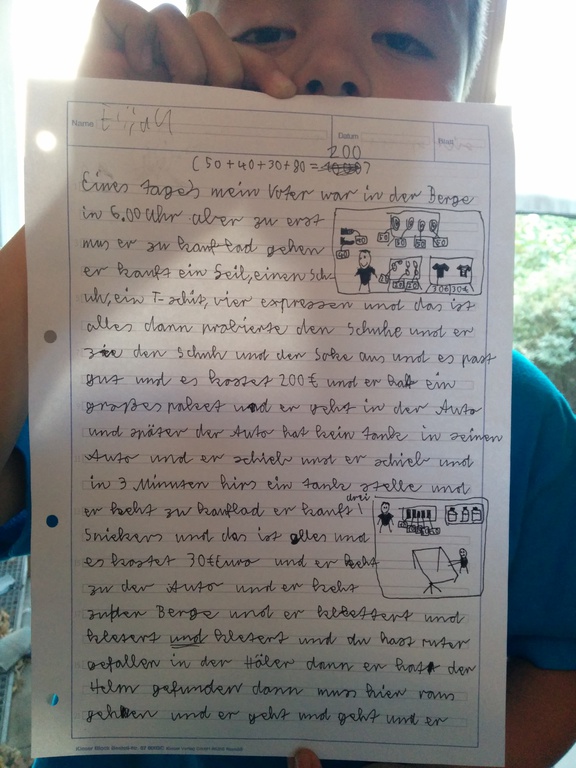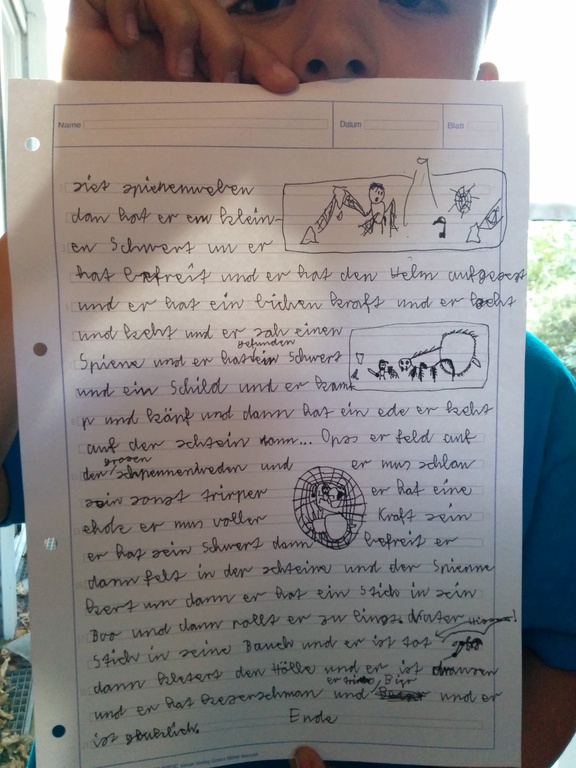 Eines Tages mein Vater war in den Berge in 6.00 Uhr aber zu erst muss er zu Kaufladen gehen. Er kauft ein Seil, einen Schuhe, ein TShirt, vier Expressen und das ist alles dann probierte den Schuhe und er zieh den Schuh und den Sake aus und es passt gut und es kostet 200 Euros und er hat ein grosses Paket und er geht in der Auto und später der Auto hat kein Tank in seinen Auto und er schieb und er schieb und in 3 Minuten gibt ein Tankstelle und er kehrt zu Kaufladen und kauft drei Snickers und das ist alles und es kostet 30 Euro und er kehrt zu der Auto und er kehrt zu den Berge und er klettert und klettert und klettert und er hat runtergefallen in der Höhlen.

Dann er hat den Helm gefunden dann nun hier rausgeht und er geht und geht und er zieht Spinnenweben an, dann hat er eine kleine Schwert und er hat befreit und er hat den Helm aufgesetzt und er hat ein bisschen Kraft und er kamm und kämpft und dann hat ein Idee er geht auf der Stein dann…Oops! er fiel auf der grossen Spinnenweben und er muss Schlau sein sonst stirbt er. Er hat eine Idee, er muss vollen Kraft sein, er hat sein Schwert dann befreit. Dann fiel er in der Steine und der Spinne kehrt um dann er hat ein Stich in sein Po und dann rollt er zu Links. Vater stich den Spinne in seine Bauch und er ist tot (Hisss!).

Dann kletterte den Hölle und er ist draußen und er hat Kaiserschmarrn und er trinkt Bier und er ist Glücklich.
The english is here:
One day my dad was in the mountains at 6 am, but first he had to go shopping. He bought a rope, some shoes, a t-shirt and four quickdraws (climbing protection). He tried out the shoes, then he put them on and they seemed good. It cost 200 Euros and he had a big package. He went in the car and later the car ran out of gas, and he pushed and pushed and in 3 minutes he found a gas station. He went back to the shop and bought 3 Snickers and that was all, and this cost 30 Euros. He went back to the car, and back to the mountains and he climbed and climbed and then he fell into a hole.

Then he found a helmet then went out of there, and he went and went and then he saw a spider web, then he had a small sword and then he got free, and he put the helmet on and he had some power, and he came and fought and then had an idea, he climbed off the rock then…oops! He fell on the big spider web and now he had to be smart or else he would die. He had an idea, he had to be really strong, he freed himself with his sword. Then he fell in the rocks and the spider turned around and he stabbed the spider in his butt and then rolled to the left. Dad struck the spider now in his belly and he died with a "Hissss!"

Then he climbed out of the hole and was outside, and he had "Kaiserschmarrn" to eat and he drank beer and he was happy.